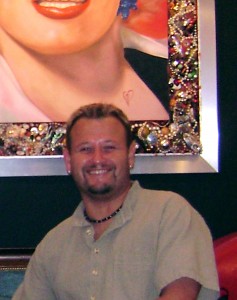 Mark Taylor was born in the heart of the Blue Ridge Mountains in a small Virginia town.  After his formal education at the University of Virginia, he made his home in Miami, where he met accomplished artist Carlos Augusto Pereira.  In 2001, Mark began working with Carlos and HeArt Studio photographing fine art for portfolio and reproductions, as well as public and private art exhibitions.   Mark has a natural talent for capturing and extracting the specific detail and perspective that makes a subject meaningful, unique, and memorable.
While traveling in various parts of the world, Mark's eye has expertly and artistically captured images that are not only obvious to see, but that convey an emotional story.  As stated by the artist, "I feel that the real emotion one feels when they experience a scene or a location can be captured not by selecting the broadest angle of view, but by selecting the most significant of the details seen by the eye.  By selecting the truly significant and unique element of a scene, I often recreate the experience of being there".
With light, angle, color, or shape, Mark's photos are unexpected, refreshing, and easy to feel.
Education
1992
University of Virginia – Bachelor's Degree in Clinical Psychology
2001
American Intercontinental University – Master of Information Technology
2010
Private Photography Training by photography professional Marshall Newell, Miami, Florida.
Exhibitions & Experience
2001-Present
Heart Studio – Professional Photographer
Personal Art Photographer for numerous international private art collections
2014
Resident artist featured at G&S Alternative Space (a Golding & Savino Gallery), Hollywood, Florida
Pre-Love Luxuries, Chief Product Photographer
2013
Resident artist featured at G&S Alternative Space (a Golding & Savino Gallery), Hollywood, Florida
Art9 Grand Opening-Press Coverage for grand opening show for Art9 Studio, North Miami Beach, Florida
2011
Golding & Savino Exhibition for Wilton Manors Art Show, Fort Lauderdale, Florida
Miami Springs City Council Publicity Portraits, Miami Springs, Florida
Lux Living Designer Furniture – Product photography for international catalog, Miami, Florida
Luxe Designer Handbags – 2 years as Chief product photographer for the largest on-line designer handbag seller in the United States, Hallandale, Florida
2010
Miami Springs Community Recreation Center Grand Opening – Press coverage, Miami Springs, Florida
2008
National Historical Museum – Press coverage for collective show featuring "The Hanukkah Project" and "Christmas Around the World.  Sponsored by the National Historical Museum, Washington, DC.
2006
Heart Studio 9th Anniversary Show – Press coverage for special anniversary show, Hollywood, Florida